As you may or may not have noticed, I am the new Marketing Co-op Intern at the Microserve office in Burnaby. My name is Amy Lee, and I am currently a 4
th
year UBC Commerce student, born in South Korea and raised in BC. I'm a Marketing major who also has an interest in tech and design – which is why Microserve and this internship was so attractive to me.
When I first saw the job posting for this internship, I became very interested in the company because of the company culture. Reading up on the company and scrolling through the blogs and social media, it was apparent that Microserve fosters a community and family feel within the company.
When I was given a tour of the office, I could truly see that Microserve lives and breathes their core values: Will Sweep Floors, Openness, Flexibility, Not Stuffy and Customer Driven. Everyone I met from day 1 was so friendly and helpful, reaffirming what I had read about Microserve's open and friendly work environment.
Among my favourite parts of the office are the coffee machine, the super organized recycling bins and last but not least, the dog-friendly environment! I'm a huge dog-person so I was really excited (that's an understatement) to meet all of the furry friends at Microserve. Letting employees bring their dog to work says a lot about the company culture and it promotes a healthy work and life balance within the company.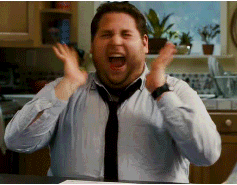 My reaction to finding out there were dogs in the office.
My main goal for the internship is to assist the Marketing Manager in planning Microserve's events, both internal and external. With three branches, Microserve has 300+ employees so we have multiple events lined up for the summer. With staff summer parties for Burnaby, Edmonton and Victoria, it's looking to be quite a busy summer! But busy is good, that means I'll be able to absorb and learn a lot of things along the way.
As for my own personal goal, I plan to learn as much as I can in the next few months about the company, event planning, digital marketing, and the IT industry. In particular, I am very interested in researching about how social media and SEO can be used to drive business for B2B companies. Who knows, once I have an idea and vision in place, I may get a chance to pitch an idea to my Marketing Manager to start a social media campaign!
That aside, my first two weeks have been superb and I'm looking forward to the great opportunities ahead at Microserve. Stay tuned; more exciting blog posts to come soon!
View All Posts